www.beforeblack.net
Home Page

Links
1982 Regal Grand National Sport Coupe
Last Updated: 11/27/2007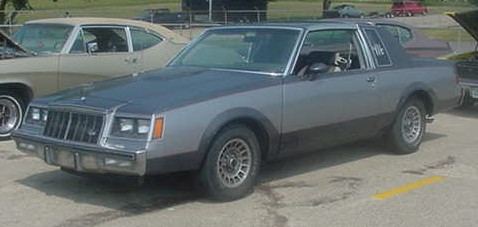 Awaiting it's first ever run down the dragstrip at the 2002 Samantha Rix Memorial Race (Byron Dragway).
STOCK/OPTIONS
1982 Buick Regal Sport Coupe
3.8 Turbo V6 w/ Quadrajet
350C Transmission
3.08 rear gear (open)
Shifting Console
Cruise Control
Rear Window Defogger
Power Windows
Power Door Locks
Remote Sport Mirrors R/L
Air Conditioning
ETR Stereo with Cassette
Power Antenna
Hatch Roof (T tops)
Tilt Steering Column
N78 Aluminum Wheels
Grand Touring (F41) Suspension
Grand National Package
Two tone paint with pin striping and shadow lettering
Front Air Dam
Rear Spoiler
Blacked-out grille, HL bezels, Rocker moldings and WOM's
Lear-Seigler Seats
Black/Charcoal Trim (in place of woodgrain)
Leather Wrapped Steering Wheel


With 15x7 Buick Ralleyes
REPAIRS/UPDATES/MODIFICATIONS
in semi-chronological order
Engine/Drivetrain
165°F Thermostat (replaces stock 195°F).
Adjustable wastegate actuator (vacuum port capped).
Removed electric EFE (burnt out)
AC/Delco AFS-20 Oxygen Sensor.
1983 Fabricated Headers (replaces stock cast manifolds)
Higher stall torque converter (1996) and shift kit
Suspension/Chassis
32 mm front sway bar with polyurethane endlinks (replaces 25mm stock).
Gabriel ProRyder shocks.
Front frame braces from Monte Carlo/Cutlass.
Front frame brace from Grand Prix.
Interior
Auto Meter Ultra Lite mechanical oil pressure gauge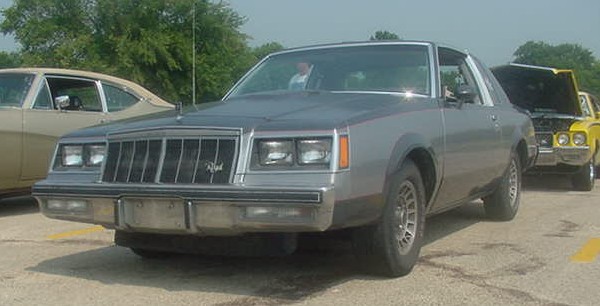 FUTURE PLANS?
3.08 limited slip rear
22mm rear sway bar (replaces 19mm stock bar)
Boxed lower control arms
Air Lift 1000 #60733 in right rear spring.