www.beforeblack.net
Home Page

Links
1976 Century Indy Pace Car
"Dedicated to the Free Spirit in just about everyone."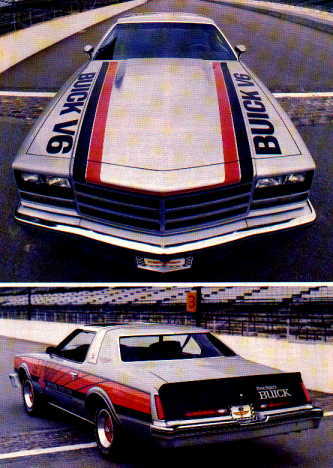 Motor Trend, June 1976
1976 Century Pace Car
"This is the Buick that's pacing the race."
After their successful pace car project for the 1975 Indianapolis 500, Buick was asked to provide a another pace car for 1976. The '75's pace car with it's huge 455 cid V8, didn't have the acceleration needed at high-speeds. This time, Buick engineers tried something new. The solution turned out to be turbocharging. But instead of another large V8, it was applied to the tiny 231 cid V6! After a long absence, the V6 had made it's return to the Buick line-up in 1976. A Rayjay turbocharger, Rochester 4 barrel carb and 20+ pounds of boost, helped the little V6 propel the large '76 Century from 90-110 mph in under 9 seconds (twice as fast as the 455!).*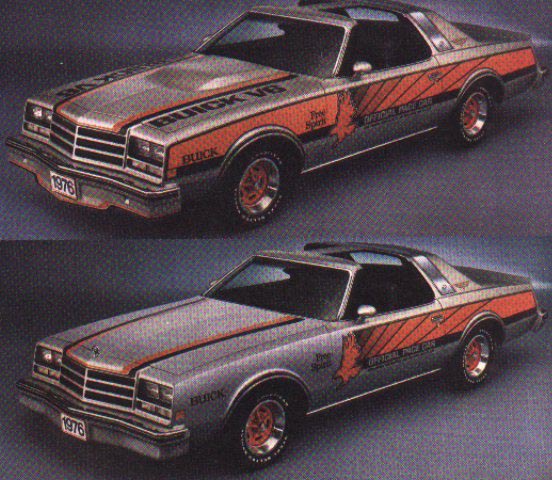 1976 Buick Century Indy Pace Car (top) and Replica from the 1976 Indy 500 Program
1976 Century Pace Car Replicas
"This is the Buick that looks like the car that's pacing the race."
"The replica offers a lot of the same features as the pace car. The same brushed roof molding. The rakish silver, black and red paint job. The same rear spoiler. Special painted road wheels. Even the same gullwing "Hurst Hatch" roof is available.
It also has Buick's spirited 3.8 litre V-6 engine. Which is the same powerplant as the we use in the official pace car. Minus the turbocharger, of course. But there are two V-8's available, if you like.
There's even a special heavy-duty Rallye suspension you can order. Not to mention a positive-traction differential."**
From the pictures above, it can be seen that the replicas decals did not exactly match the pace car's. Also the front air dam and bulged hood didn't make it to the replicas, but otherwise the appear similar. There were a total of 1,290 Century Pace Car Replicas produced.***
Sources:
* "Buick's Turbo V-6", by Mike Knepper; Motor Trend, June 1976.
** "Free Spirit Returns to Indy", Buick advertisement, 1976 Indy 500 program.
*** "Standard Catalog of Buick 1903-2000", Krause Publications.
"When Better Pace Cars Are Built...", by Jim McCraw; Hot Rod, May 1976.