www.beforeblack.net
Home Page

Links
1982 Union 76 Parade Car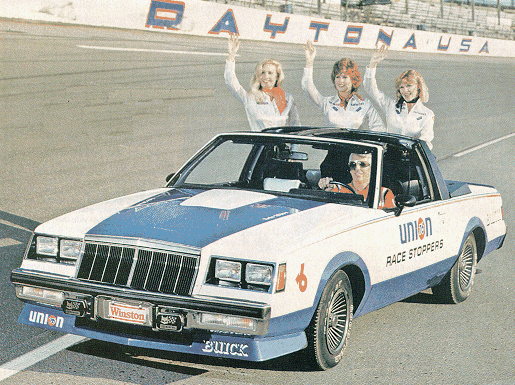 The next step in the Grand National story is not as well known as it's predecessor. This car is an '82 model that was a continuation of the 1981 Indy Pace Car project. It was prepared as a parade car for Union Oil's "Race Stoppers."
This vehicle has an identical T-top/convertible roof and similar paint/graphics, this time in blue and white. The rear spoiler was again used and but this time a front air dam was also added. The most significant difference between the two Pace Cars is in the engine compartment. This car utilizes the 3.8 litre turbocharged V-6, which "provides sufficient moxie to light the tires easily and pushes the 3570 pound machine to cruising speed in a hurry."
It is obvious that these two cars were the inspiration of the '82 Grand National. The GN has a similar paint scheme (in silver and charcoal), T-tops, special interior, upgraded suspension, and front and rear spoilers. The '82 GN was a pace car for the streets!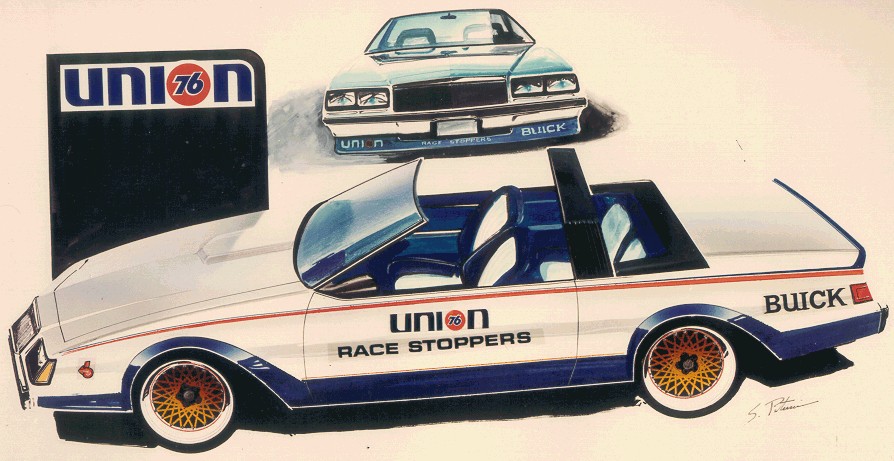 Original Drawing contributed by Buick Designer Steve Pasteiner.
Sources:
"Anatomy of a Pace Car" by Dick Berggren, Stock Car Magazine, March 1982
1982 Daytona 500 Program