www.beforeblack.net
Home Page

Links
THE Red GN
is it the "Street Regal"?



Images courtesy of Steven Pasteiner, former Buick Designer.
The photos on this page were sent to me by former Buick Designer, Steve Pasteiner. Steve is responsible for many Buick cars including the '81 Indy Pace Car, '82 GN and more recently, the Buick Blackhawk. These same photos appear in Steve Dove's book which describe Molly's "Street Regal" concept car. The book states these are also photos of the Street Regal. As you can see, the front end now looks very different. The front end is now aerodynamic looking, Monte Carlo SS-ish. Here's what Steve had to say about the new nose:
"The results of the wind tunnel dictated some changes. Partly to generate a production vehicle that would benefit its performance on the race track. The front air dam reduced front end lift and would have made the vehicle more specific to the GN model. Partly because Buick already dominated on the race track, partly because of cost, it was a hard sell and never materialized. The softened grille header translated itself to lower wind resistance, therefore better fuel economy and was adopted to all Regal models. Besides painting this vehicle red, several other colors were tried, black was chosen as a Star Wars influenced Darth Vader. Actually, some of the early prototypes even sounded like Vader breathing."
Steve also went on to say this car was never in California and Molly had nothing to do with it. Besides the nose, the wheels are different, the rockers have black moldings, the GN emblems have moved, and the doors & decklid have outlined BUICK decals (see below). You already saw that the Street Regal was painted "jet black" with the '83 nose. How can these be the same car?
Was the black '83 nose removed and replaced with '84 nose, and then the whole was painted red again?

Or, was the '84 nose put on while red, then swapped back again to the '83 nose when painted black?

OR WERE THESE TWO DIFFERENT CARS?????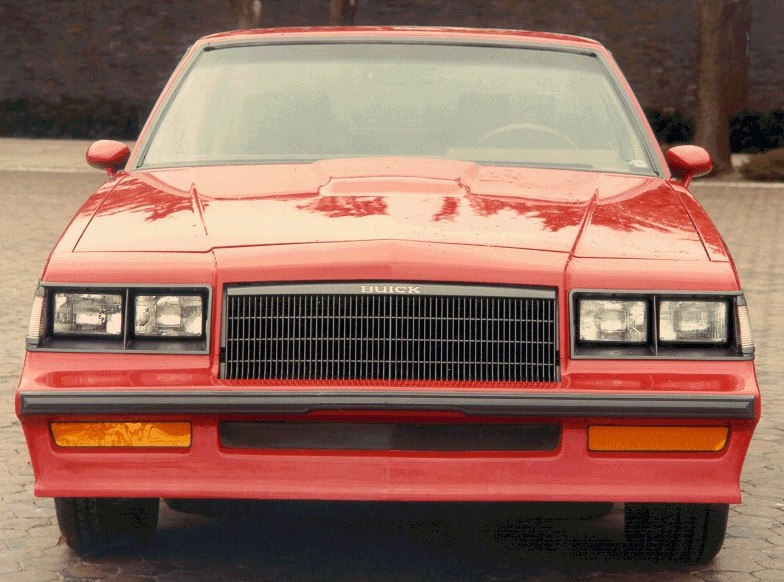 While the bumper fascia didn't make it into production, the new grille and header assembly did in 1984 on all production Regals. According to Steve, the fascia is clay. You can see the parking lamp assemblies are not actual lamps.

This picture shows painted American Racing Vectors. Steve's original drawing of the '82 GN features the same wheels. The '84 GN used these well, painted black of course. They then made onto the 86 T Type and '87 Turbo Regal.

Steve told me about this. You can't see them until you blow up the original high- resolution images he sent me. It's the same photo blown up to see the large, outlined BUICK on the door. The same thing is on the decklid. Bet you never knew that was there.
---
In addition to Dennis Kirban using Molly as an attraction to his shows (again in 2002), and Steven Dove using it as a highlight in his book (it has it's own chapter), you may have seen the latest. GMP's latest 1/18th scale model Turbo Regal is titled the 1983 Molly/Buick Grand National Prototype, along with a write up very similar to Steven Dove's book version. If you were really lucky, you could even get a Molly autograph on a lithograph.
It appears to be a composite of the two versions, and it's easy to see that a 84/87 Regal was used as a basis. While it does have a Carb/Turbo V6, it has 84/87 tail lights, instruments, aluminum valve covers, hoodliner, electric cooling fan, and cross-flow muffler. It more Buick version than Molly's. It has the Red GN's nose, with the Street Regals wheels, door emblems and cornering lamps. It's also gained a grille emblem and lost a rear spoiler. I know this is picky, but this an expensive model that brags about accuracy. (Take it for what it is, just a toy!)
If there really were two Red GN's, then Steven Dove made a mistake by assuming they were one and GMP copied his mistake.