www.beforeblack.net
Home Page

Links
1986 LeSabre Grand National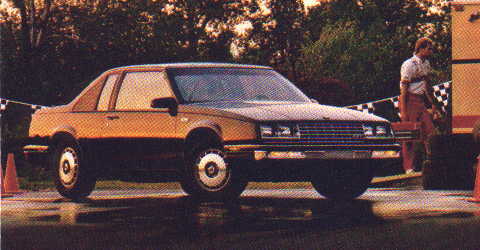 Buick advertisement photo.
Like the 1986 Century Gran Sport, This car doesn't fall into the "Before Black" category, but it is another rather unknown Buick performance car. Just like the '82 GN, there is little information printed on this car. Since it get many inquiries, I decided to type up what I know.
The '86 LGN was the result of the Regal's replacement by the LeSabre in NASCAR racing. After the Regal's dominance in 1981 and 1982, Chevy and Ford countered with the Monte Carlo SS and new, aerodynamic Thunderbird. Buick lost it's advantage. Once the most aerodynamic car, it was now consider a "brick". In 1986, the LeSabre was downsized (and went FWD), and became the new Buick racing body. Oldsmobile did the same, by replacing their Cutlass with the Delta 88.
Here is list of some of the features of the 1986 LeSabre Grand National. (I believe the following is correct, but I cannot verify most. Please let me know if you can correct anything.)
Production figures has been reported as 112 and 117. (The more reliable sources report 117.)
Available in black and possibly white. (Black more common.)
All are based on LeSabre Coupes (two-doors).
3.8 SFI Liter V6. Production cars were NOT turbocharged, but a prototype may have been.
Wheels are 15-slot 15" x 6" aluminum. Also used on Electra, Park Avenue and Riviera (Hollander Interchange).
Emblems use all red V6 logo. Although the Buick parts books list Regal GN emblem part number, this is a mistake. The Red V6 emblem was available and had a separate number..

Special interior treatments.
Rear, side windows covered with louvers. Window opening much smaller. (Compare production car to race car.)
Hood Ornament is same as 87-89 LeSabre T TYPE.
Sometimes confused with 1986 Century Gran Sport (not Grand Sport). The '86 GS was a similar appearing all black car based on the FWD Century.
Conversions performed a Lloyd Buick in Daytona, FL.*
A 1988 LeSabre GN concept car was created to replace the Regal GN, but never went into production.*
*Contributed by Buick designer Steve Pasteiner.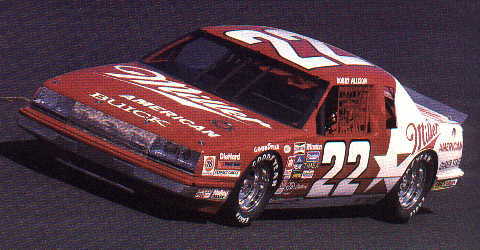 Bobby Allison's #22 Miller American Buick. Photo from 1986 NASCAR Yearbook and Press Guide.