www.beforeblack.net
Home Page

Links
1983 Regal TTYPE
Last Updated: 11/27/2007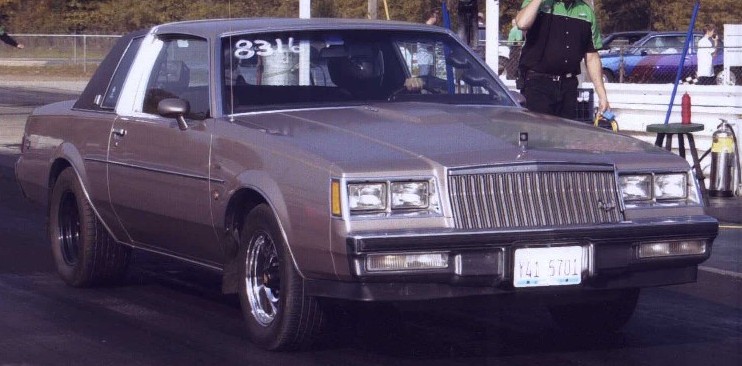 On the line at Cordova, IL dragstrip.

BEST RUN
Cordova Dragway
8/OCT/2005
60' 1.921

330' 5.748

1/8 8.989

MPH 75.45

1000' 11.817

1/4 14.215

MPH 93.75
For Reference - Popular Hot Rodding 4/83; 1983 Regal T Type - 16.95@ 79.96
STOCK/OPTIONS
1983 Buick Regal T Type
3.8 Turbo V6 w/ Quadrajet -

Block Casting 25514290
Carburetor Casting 17083244

200-4R Overdrive Transmission -

Rebuilt 7/16/02 by Jimmy's Lake County Transmission, Mundelein, IL
Hardened Stator
Kevlar Band
Shift Kit
Neal Chance High Stall Torque Converter
Pats 2800 Stall Torque Converter 8/2007

3.42 rear gear (open)
Light briar brown w/ dark briar brown landau top
Dark briar brown interior
60/40 bench
Column shift
Power windows (no power door locks)
Air Conditioning (partially removed)
Rear window defogger
Delay wipers
Wire wheel covers (credit vs. N78 Aluminum Wheels)
Rubber floor mats
Trunk trim carpeting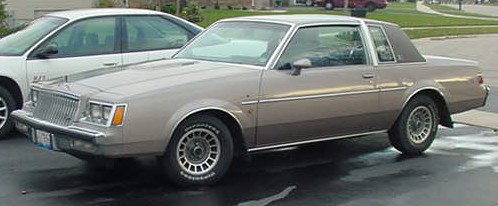 With RPO N78 wheels (standard on T Type).
MAINTENANCE/MODIFICATION LOG
in chronological order
Bold are performance modifications I recommend!!!
Drivetrain
Exhaust (Walker Cat Back); dual resonator - previous owner.
165°F Thermostat (replaces stock 195°F).
Alternator/Voltage Regulator repaired.
Throttle linkage corrected to allow secondaries to open. Also air valves adjusted (stuck shut).
Water Pump replaced (leaking).
Adjustable wastegate actuator (vacuum port capped).
Removed electric EFE (burnt out)
Replaced driver's side header with '79/80 cast manifold with EFE removed (header cracked between #3 & #5).
Summit HEI Coil (SUM-850011) 60260 11/8/02
MSD 6 BTM, #6420 62086 4/6/03
Well Premium Cap and Rotor 4/17/03
Crane Cams 8.5mm Fire Wires 4/17/03
AC/Delco R44TS plugs; 0.030 gap. 63000 04/25/03
HRpartsNstuff Polyurethane driver's side motor mount (new design) 68021 8/23/03
Fuel Pump replaced 68021 8/23/03
External fuel filter (internal removed) 68021 8/23/03
EGR valve AC Delco (New, for '82 TR) 10/8/03
Dynomax 2½" Catalytic Converter #15146, w/o AIR tube (passed IL emissions with AIR pump disconnected) ~70000 10/18/03
Optima Red Top 2/22/04
Powertrax no-slip locker 72258 4/23/04
Replaced passenger side header with '80 cast manifold (header cracked at #2). Drilled and tapped for oxygen sensor. 72258 4/23/04
Port turbo elbow. 72258 4/23/04
AC compressor&condenser, AIR pump and bracket removed. Alternator bracket from 78 V6 Regal used.
Radiator replaced, Go-Dan Industries, Transpro Ready-Rad #43-3918 (plastic/aluminum F-body V8) 75955 9/4/04
Ramcharger's Valeo duel electric fan, 81800 8/28/05
Eaton Limited Slip Differential (used), 9/17/05 corrected wheel hop problem caused by Powertrax.
ATR 2½" Downpipe for 84/85, modified to fit. 2006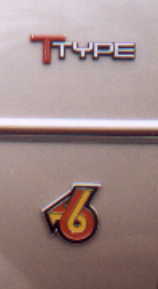 Suspension/Chassis
Boxed lower controls arms; (take-offs from new Camaro Z28 with bushings).
22 mm rear sway bar (replaces 19mm stock).
Buick Rallye rims; 15x7 w/ 4.5"BS (replaces 14x6 steel wheels and wire wheel covers).
BFG Radial T/A's; P235/60R15's (replaces P205/70R14's).
Air Lift 1000 #60733 in right rear spring.
Front frame brace from Grand Prix.
~34 mm front, hallow, F-body sway bar (replaces 27mm stock).
Bilstein shocks.
Lower Body Bushing added - Positions 3,4&7.
Front frame braces from Monte Carlo/Cultass.
Front Brake Pads 62928 4/23/03
Drive Shaft Loop, Kirban Performance 71989 4/46/04
Air Lift 1000 #60733 in left rear left spring. 5/4/04
Interior/Exterior
OTC Monitor 85 scan tool
Pioneer 4x10 rear speakers.
Sanyo CD player (DIN/2 with '84+ faceplate).
Casper's Electronics audible knock alert.
Sport three-spoke steering wheel.
"Factory" Tachometer (from Cutlass w/ clock delete faceplate) 8/10/02
Auto Meter Boost Gauge (30-0-20)
TCC lockup indicator light
Factory Turbo Power gauge functional green light added
Digital Multimeter for monitoring oxygen sensor output
EGT gauge in up-pipe/Omega digital thermometer 4/2/02
Steadfast steering column collar 6/6/03 64935
Front Air Dam from 84/85 Grand National
Headliner and Visors recovered 4/2/04
Innovate Wide-band oxygen sensor 5/6/05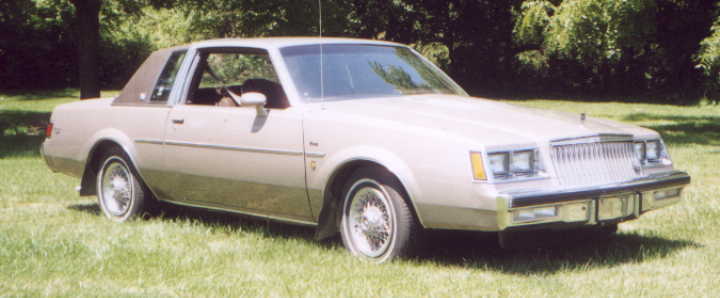 As purchased (nice wheels?)


With 15 x 7 Buick Rally Wheels