www.beforeblack.net
Home Page

Links
Johnny Lightning's 1982 Buick GN


1982 Grand National by Johnny Lightning
Playing Mantis released its third paint scheme for the "Classic Gold" Series One Collection. The third Buick Regal is the 1982 Grand National! The first was a Silver T-type, followed by a black GN. The photo card is of the prototype 82 GN and under the name reads "rare...only 215 made in '82" (the back of the card is blank). The car itself has the shadow lettered BUICK and prototype's fender emblems. Since it is basically the 84-87 GN with silver sides, the car is black instead of gray and has a turbo hood, but that's as close as any toy manufacturer is going to get. The card also says "1 of only 15,000", not as rare as the car itself, but good luck finding one!
Other Early Buick "Grand Nationals"
As you know, Buick dominated NASCAR's Grand National racing in the early eighties. Several diecast manufactures have made replicas of the Buick Regal stock cars. (Let me know if I've missed some!)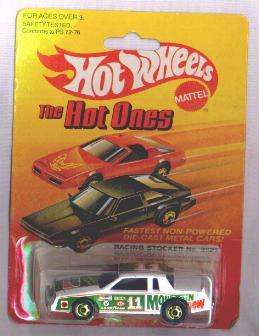 1. The ERTL Company. They reproduced several 1/64 and 1/43 Regals including Darrell Waltrip, Richard Petty, and Dale Earnhardt. Also, many larger plastic cars and model kits.
2. Hot Wheels also had a version of Waltrip's Dew car called a "Racing Stocker". The same casting was also used for the 1986 "Stock Rocket". There are four "Crack Ups" cars which are based on the Regal. The front end of these changes when touched to appear damaged.
3. Action/RCCA has Waltrip's (Mountain Dew) and Allison's (Miller High Life) championship cars in both 1/64 and 1/24. Nice high quality cars.
4. Racing Champions has reproduced Richard Petty's 1981 Buick Regal as part of their 50th Anniversary set in 1/64 and 1/24. They previously released a 1987 GN which they sell in black, green, silver, gold, chrome, police trim, WCW wrestling and what ever else they can think of. There are probably more paint schemes (and packaging) to this mold than all other Regals combined. There is even a "kit" sold under the ERTL name, which is a disassembled RC '87 GN. They will undoubtedly paint the 1981 Regal in a variety of schemes also.