www.beforeblack.net
Home Page

Links
Turbo Monte Carlo
OK, the BEFORE BLACK Website is about Buicks. So why is a Chevrolet Monte Carlo here? Simple, while the car is a Chevy, the engine is a Buick Turbo V6! Exactly the same engine as in the Buick Regal Sport Coupe. This page mainly address the car model that featured the Buick Turbo V6. For a more complete listing of power ratings and mechanical changes made to the Turbo V6 engine each year, please see the "Evolution of the Buick Turbo V6" page. For a complete production figures listing, see the "Turbo V6 Production Figures" page. Have a question? Please post it on the Message Board!
1980 Turbo Monte Carlo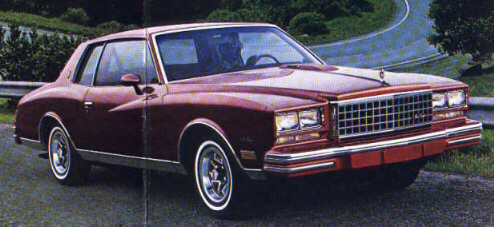 1980 Chevrolet Monte Carlo with Turbo V6 from sales brochure
Although it wasn't a Buick, the Monte Carlo received "a shot of adrenaline" in 1980. Chevrolet added the Buick Turbo V6 to the Monte Carlo's line up. Chevy had also introduced it's own 3.8 liter engine, a V6 version of the small block that was actually 229 cubic inches (compared to Buick's 231 cubic inch 3.8 litre) to go along with two V8's (267 and 305). The only visual clue to the Turbo V6 was a louver (bulge) installed on the hood. On each side of the louver was an emblem with Chevy's bowtie and the word "TURBO". A similar emblem was installed on the dashboard. Chevrolet did not offer a special performance model for the turbo engine. It was available on the base Coupe and Landau Coupe.
Sources:
"Turbo Monte Carlo" by John Dianna, Motor Trend; September. 1980.
"Turbo Tour" by Ro McGonegal, Motor Trend; June, 1980.
1981 Turbo Monte Carlo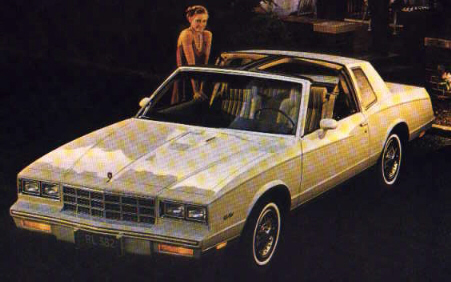 1981 Chevrolet Monte Carlo with Turbo V6 and T tops from sales brochure
CLICK HERE TO SEE MORE IMAGES OF A
1981 TURBO MONTE CARLO OWNED BY ROGER SOULE
The Monte Carlo, along with the other A-specials, received new, more aerodynamic, sheetmetal. The 1981 Monte Carlo looked dramatically different than the '80. The Turbo V6 also became computer controlled (ECM) for '81. Unfortunately the press was hard on the Buick Turbo V6 engine. While the power and economy were comparable to the 305, the turbo lag was something the V8 owners were not used to. Chevrolet dropped the Turbo 6 after this second year. To bad, had they waited a little longer for Buick to focus on the performance (not economy) of the engine, they would have had something to back up the awesome looks of the SS package they introduced in 1983. That would have certainly changed the 80's MuscleCar scene.
Part Description
GM Part #
Model Year
Louver, Hood
14016991
80
Louver, Hood
14031457
81
Seal, Hood Louver
14016992
80/81?
Emblem, Hood Louver, Turbo
14017688
80/81
Emblem, Dash Plate, Turbo
14013896
80/81
Source: Chevrolet Parts and Illustration Catalogs, 10 and 10A