www.beforeblack.net
Home Page

Links
1982 Grand National REGISTRY
Last Updated: 11/29/2007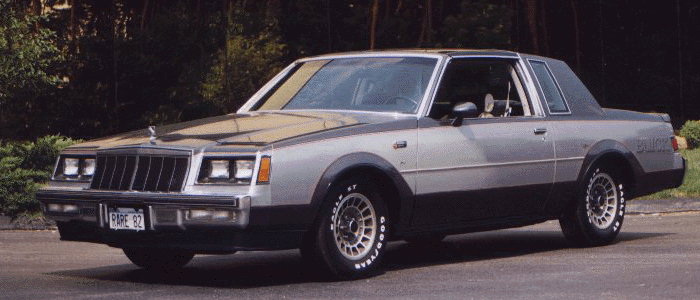 Al Thompson's first (and last) '82 Grand National.
TOTAL 1982 Grand Nationals made: 215
REGISTERED - total: 140 (65% of total)
REGISTERED - Sport Coupe Turbo 3.8: 35
Special Thanks to Al Thompson and Dave Anderson for their help with this registry!
Please Note! This is simply a list of VIN's I have collected since 1990. Don't conclude that cars not on the list are gone, junked, whatever. It just means I haven't come across them yet. Being 'registered' doesn't guarantee anything except that I believe the VIN listed is/was an '82 GN. Running a Carfax is a good way to trace a vehicle's history. If you happen to run a VIN on Carfax, please e-mail it to me.
Sequence Number - This is the last six digits of the VIN. This would be the order that each Regal, prior to conversion, was built (and the number I am sorting the list upon).
VIN - Vehicle Identification Number, the fifth digit denotes the model. J for base (with 4.1 V6) or K for Sport Coupe (with 3.8 Turbo V6).
Body # - 6-digit number from Cowl Tag or broadcast sheet.
Manufacture Date - Month/Year the Regal was produced. Found on a decal on the driver's side door.
C&C # - Conversion number from the now defunct Cars and Concepts. This would be the # of 215. Not all numbers are known (this is why the registry is sorted by sequence number). Note that the conversion number and sequence number are not correlated. These numbers were obtain from a partial list of 93 VIN's from cars and concept. The majority of the numbers are greater than 100. Some typos were found on the list, so verifying the VIN against a Carfax is best.
Status date - Date listed by Cars and Concepts. Likely is the date of receipt of the car and not the actual conversion date.
OWNER and E-MAIL - If you would like you name and e-mail address listed, let me know along with any other useful information.
State - Current location of vehicle as reported by owner or Carfax report.
Mileage - Most current reading as reported by owner or Carfax report
If you would like to add you car to this Registry, please send an e-mail to b4black@flash.net (Please write "BUICK GRAND NATIONAL" in the subject so I won't miss it among the many spams I receive. If I don't reply, please resend as I may have missed it!)
| | | | | | | | | | | | |
| --- | --- | --- | --- | --- | --- | --- | --- | --- | --- | --- | --- |
| SEQ # | VIN | Body # | MFG Date | C&C # | CONV Date | OWNER | E-MAIL | State | Mileage | as of | NOTES |
| 217728 | 1G4AJ4740CH217728 | | | | | | | | | | |
| 217797 | 1G4AJ4748CH217797 | | | | | | | | | | |
| 217801 | 1G4AJ4746CH217801 | | | | | | | | | | |
| 217968 | 1G4AJ4749CH217968 | | | | | | | SC | 53,650 | 8/10/2002 | Sold on eBay, $7,200 |
| 218034 | 1G4AJ4745CH218034 | | | | | | | | | | |
| 218072 | 1G4AJ4742CH218072 | | | | | | | IL | 95,358 | 6/2/2003 | Did not sell on ebay for $8,000 |
| 218391 | 1G4AJ4747CH218391 | | | | | | | | | | |
| 218441 | 1G4AJ4747CH218441 | | | | | | | | | | |
| 218532 | 1G4AJ474XCH218532 | | | | | | | AL | 132,000 | 5/26/2005 | |
| 218558 | 1G4AJ4746CH218558 | | | | | Bill Hunt | wchunt@bwsys.net | IL | 95,309 | 11/24/1998 | |
| 218573 | 1G4AJ4742CH218573 | | | | | Jim Michealson | (815) 243-6683 | IL | ? | 4/28/2002 | |
| 218613 | 1G4AJ474XCH218613 | | | | | | | | | | |
| 218754 | 1G4AJ4746CH218754 | | | | | kikasas | kikasas@earthlink.com | IN | | 8/24/2004 | Rough |
| 218771 | 1G4AJ4746CH218771 | | | | | | | | | | |
| 218777 | 1G4AJ4747CH218777 | | | | | Tommy Riggs | | KY | ? | | Restored |
| 218795 | 1G4AJ4741CH218795 | | | | | Gary V Crutchfield | crutch@gcronline.com | VA | 100,600 | 9/26/2004 | Restored '03, one owner |
| 218848 | 1G4AJ4744CH218848 | | | 79 | 6/9/1982 | XXXXX | | IL | X | X | Junked - 11/15/01 |
| 218903 | 1G4AJ4748CH218903 | | | 83 | 6/9/1982 | | | | | | |
| 218976 | 1G4AJ4742CH218976 | | | | | | | MI | ? | | |
| 219091 | 1G4AJ4740CH219091 | | | 128 | 6/14/1982 | XXXXX | | IL | X | X | Totaled - 1997 |
| 219451 | 1G4AK4739CH219451 | | | 132 | 6/14/1982 | | | | | | |
| 219462 | 1G4AK4733CH219462 | | | | | Rich George | b4black@flash.net | IL | ? | | Rough |
| 219486 | 1G4AK4736CH219486 | | | 130 | 6/14/1982 | | | | | | |
| 219496 | 1G4AK4739CH219496 | | | | | Tim Iles | | OH | 2,278 | 12/29/1993 | |
| 219503 | 1G4AJ4748CH219503 | | | | | | | IA | 112155? | 10/20/2003 | Sold on eBay, $910 |
| 219509 | 1G4AJ4749CH219509 | | | 114 | 6/14/1982 | | | | | | |
| 219525 | 1G4AJ4747CH219525 | | | 93 | 6/10/1982 | | | | | | |
| 219551 | 1G4AK4732CH219551 | | | | | Mark Speary | | DE | 63,496 | 1/29/1993 | |
| 219630 | 1G4AJ4744CH219630 | | | 133 | 6/14/1982 | | | | | | |
| 219821 | 1G4AJ4740CH219821 | | | | | | | | | | |
| 219837 | 1G4AJ4744CH219837 | | | 95 | 6/10/1982 | David Mattison | | MI | | 5/20/2005 | |
| 219893 | 1G4AJ4743CH219893 | | | | | | | | | | |
| 219854 | 1G4AK4739CH219854 | | | 159 | 6/16/1982 | | | | | | |
| 219859 | 1G4AJ4743CH220859 | | | | | | | | | | |
| 220003 | 1G4AJ4744CH220003 | | | | | | | | | | |
| 220180 | 1G4AJ4744CH220180 | | | 123 | 6/14/1982 | Sean P. O'Connell | seanheidi@aol.com | NH | 96,000 | 8/9/2002 | Restored |
| 220270 | 1G4AJ4745CH220270 | | | 129 | 6/14/1982 | | | | | | |
| 220553 | 1G4AK4730CH220553 | | | 158 | 6/16/1982 | Michael Mesaros | mesaros@earthlink.com | CA | 75,845 | 9/8/1995 | |
| 220563 | 1G4AK4733CH220563 | | | 113 | 6/14/1982 | | | | | | |
| 220580 | 1G4AK4739CH220580 | | | | | | | | | | ?????? |
| 220583 | 1G4AK4739CH220583 | | | | | Amy and Ben Lutz | AL76LUTZ@aol.com | KS | 37,860 | 7/21/1999 | |
| 220605 | 1G4AK4734CH220605 | | | | | | | | | | |
| 220641 | 1G4AJ4743CH220641 | | | 118 | 6/14/1982 | | | | | | |
| 220644 | 1G4AJ4749CH220644 | | | 116 | 6/14/1982 | | | | | | |
| 220917 | 1G4AJ4747CH220917 | | | 145 | 6/15/1982 | | | | | | |
| 221346 | 1G4AK4730CH221346 | | | | | David Vershon | DVERSHON@aol.com | MA | 147,000 | 6/6/2001 | white |
| 223468 | 1G4AK4732CH223468 | | | | | | | IN | 66,250 | 11/27/2000 | |
| 224993 | 1G4AJ4743CH224993 | | | 112 | 6/14/1982 | Jeff Thompson | | IL | 109,658 | 6/12/2002 | |
| 225004 | 1G4AK4733CH225004 | | | 147 | 6/15/1982 | | | FL | ? | | Restored |
| 225034 | 1G4AK4731CH225034 | | | | | | | NJ | 42,591 | 11/27/2001 | Very Good |
| 225127 | 1G4AJ4743CH225127 | 221739 | | | | Mecum Auctions | www.mecumauction.com | IL | 65,369 | 10/22/2004 | Very Good |
| 225198 | 1G4AJ4744CH225198 | | | 111 | 6/14/1982 | | | | | | |
| 225201 | 1G4AJ4740CH225201 | | | | | | | IL | 115000 | 4/21/2004 | 'Swiedals" Sold on ebay, $910 |
| 225233 | 1G4AJ4742CH225233 | | | 106 | 6/14/1982 | J.J. Frey | jonenonlyj@aol.com | WI | 76,000 | 11/17/1998 | |
| 225299 | 1G4AJ474XCH225299 | | | 167 | 6/17/1982 | | | | | | |
| 225372 | 1G4AJ4745CH225372 | | | | | | | | | | |
| 225358 | 1G4AK4735CH225358 | | | | | Dan McCann | 82gntrbo@sgi.net | PA | 92,758 | 5/4/1995 | Good |
| 225463 | 1G4AJ4748CH225463 | | | 110 | 6/14/1982 | | | IL | | 9/27/1991 | |
| 225481 | 1G4AJ474XCH225481 | | | | | | | WI | | | |
| 225492 | 1G4AJ4744CH225492 | | | 107 | 6/14/1982 | | | | | | |
| 225563 | 1G4AJ4741CH225563 | | | 168 | 6/17/1982 | | | | | | |
| 225585 | 1G4AJ4740CH225585 | | | 169 | 6/17/1982 | | | | | | |
| 225596 | 1G4AJ4745CH225596 | | | 165 | 6/17/1982 | | | | | | |
| 225610 | 1G4AJ4746CH225610 | | | 160 | 6/17/1982 | ebay | pcmdmart | | ~35,000 | 8/30/2003 | excellent |
| 225628 | 1G4AJ4743CH225628 | | | 161 | 6/17/2002 | | | | | | |
| 225648 | 1G4AK4733CH225648 | | | | | Dan McCann | 82gntrbo@sgi.net | PA | ? | | Very Good |
| 225701 | 1G4AJ4749CH225701 | | | 34 | 5/10/1982 | | | TX | 61,000 | | Original Owner |
| 225720 | 1G4AK4737CH225720 | | May-82 | 173 | 6/17/1982 | | | AZ | 57,096 | 4/3/1997 | Average |
| 225726 | 1G4AJ4743CH225726 | | | | | | | IL | | 12/11/1991 | |
| 225730 | 1G4AK473XCH225730 | 222866 | | 155 | 6/16/1982 | Rich George | b4black@flash.net | IL | 64,000 | 10/20/2000 | Average |
| 225733 | 1G4AJ4740CH225733 | | | 162 | 6/17/1982 | | | | | | Scrapped |
| 225744 | 1G4AJ4745CH225744 | | | 156 | 6/16/1982 | | | | | | |
| 225792 | 1G4AJ4745CH225792 | | | 163 | 6/17/1982 | | | | | | |
| 225829 | 1G4AJ4742CH225829 | | | 164 | 6/17/1982 | | | | | | |
| 225885 | 1G4AJ4741CH225885 | | | 177 | 6/17/1982 | | | | | | |
| 225893 | 1G4AJ4740CH225893 | | | 135 | 6/15/1982 | Antonio Govea | antonio.govea@amd.com | TX | 77,447 | 8/2/1990 | FOR SALE rough |
| 225896 | 1G4AJ4746CH225896 | | | 179 | 6/17/1982 | | | | | | |
| 226021 | 1G4AK4738CH226021 | | | 186 | 6/21/1982 | | | | | | |
| 226031 | 1G4AK4730CH226031 | | | | | Eric Fisher | turbofish38@hotmail.com | FL | 33,531 | 3/31/1987 | Junk, VIN removed |
| 226038 | 1G4AJ4749CH226038 | | | 148 | 6/15/1982 | | | | | | |
| 226147 | 1G4AJ4743CH226147 | | | 154 | 6/16/1982 | XXXXX | | PA | X | X | Scrapped, 4/2003 |
| 226157 | 1G4AJ4746CH226157 | | | 176 | 6/17/1982 | | | | | | |
| 226177 | 1G4AJ4741CH226177 | | | 175 | 6/17/1982 | | | | | | |
| 226216 | 1G4AJ4747CH226216 | | | 174 | 6/17/1982 | | | | | | |
| 226244 | 1G4AJ4741CH226244 | | | 185 | 6/21/1982 | | | | | | |
| 226406 | 1G4AJ4741CH226406 | | | 141 | 6/15/1982 | Sighted for sale | | OK | 92,803 | 2/23/1996 | MIA |
| 226419 | 1G4AK4734CH226419 | | | 140 | 6/15/1982 | | | CA | 43,500 | 2/4/1987 | MIA |
| 226433 | 1G4AJ4744CH226433 | | | 184 | 6/21/1982 | | | | | | |
| 226509 | 1G4AJ4740CH226509 | | | 183 | 6/21/1982 | | | | | | |
| 226515 | 1G4AJ4746CH226515 | | | 182 | 6/22/1982 | | | | | | |
| 226526 | 1G4AJ4740CH226526 | | | 181 | 6/21/1982 | | | | | | |
| 226649 | 1G4AJ4745CH226649 | | | | | C. J. Barkfelt | lokeyzero@yahoo.com | MO | 143,200 | 5/1/2002 | |
| 226686 | 1G4AK4735CH226686 | | | 170 | 6/17/1982 | | | IN | 153,000 | 6/19/1996 | Very rough/unrestorable? |
| 226736 | 1G4AK4735CH226736 | | | 153 | 6/16/1982 | | | MI | 84,180 | 12/1/1989 | |
| 226746 | 1G4AK4738CH226746 | | | 138 | 6/15/1982 | | | | | | |
| 226756 | 1G4AK4730CH226756 | | | 171 | 6/17/1982 | | | | | | |
| 226776 | 1G4AK4736CH226776 | | | 151 | 6/26/1982 | | | | | | |
| 226972 | 1G4AJ4741CH226972 | | | | | | | IN | 85,270 | 7/8/1999 | Restored |
| 227000 | 1G4AK4735CH227000 | | | 180 | 6/21/1982 | | | IL | 65,000 | 2/10/2002 | Mecum Auction, Rockford, IL |
| 227062 | 1G4AJ4740CH227062 | | | 211 | 6/22/1982 | | | | | | |
| 227065 | 1G4AJ4746CH227065 | | | 188 | 6/21/1982 | | | | | | |
| 227069 | 1G4AK4738CH227069 | | | 150 | 6/16/1982 | | | | | | |
| 227079 | 1G4AK4730CH227079 | | | 172 | 6/17/1982 | | | | | | |
| 227089 | 1G4AK4733CH227089 | | | 136 | 6/15/1982 | | | IL | ? | 6/23/1999 | |
| 227099 | 1G4AK4736CH227099 | | | 139 | 6/15/1982 | | | TX | 46,163 | 2/10/1987 | |
| 227109 | 1G4AK4735CH227109 | | | 149 | 6/16/1982 | Phil Gushee | trishag3@msn.com | MA | 199,137 | 3/13/1998 | SBC 350 |
| 227119 | 1G4AK4738CH227119 | | | 210 | 6/22/1982 | Greg Kring | buickgn82@aol.com | NE | 117,000 | 5/9/1989 | Featured in F&F #2 |
| 227372 | 1G4AK4739CH227372 | | | 189 | 6/21/1982 | | | | | | |
| 227415 | 1G4AJ4747CH227415 | | | | | | | | | | |
| 227418 | 1G4AJ4742CH227418 | | | | | | | IL | 111,000 | 10/5/1999 | |
| 227445 | 1G4AJ4745CH227445 | | | | | | | | | | |
| 227520 | 1G4AJ4744CH227520 | | | 187 | 6/21/1982 | | | | | | |
| 227547 | 1G4AJ4741CH227547 | | | 209 | 6/22/1982 | | | | | | |
| 227600 | 1G4AJ4742CH227600 | | | | | | | | | | |
| 227788 | 1G4AJ4742CH227788 | | | 193 | 6/21/1982 | | | | | | |
| 227801 | 1G4AJ4741CH227801 | | | 192 | 6/21/1982 | | | | | | |
| 227811 | 1G4AJ4744CH227811 | | | 191 | 6/21/1982 | | | | | | |
| 227834 | 1G4AJ4741(?)CH227834 | | | 214 | 6/22/1982 | | | | | | |
| 227857 | 1G4AJ4746CH227857 | | | 190 | 6/21/1982 | | | | | | |
| 227868 | 1G4AJ4740CH227868 | | | | | ebay - gransport1972 | | MA | 85,525 | 10/20/2003 | rough |
| 227888 | 1G4AJ4741CH227888 | | | 212 | 6/22/1982 | | | | | | |
| 227904 | 1G4AJ4740CH227904 | | | 196 | 6/21/1982 | | | | | | |
| 227913 | 1G4AJ4741CH227913 | | | 215 | 6/22/1982 | | | OH | ? | | Last conversion |
| 227916 | 1G4AJ4747CH227916 | | | 213 | 6/22/1982 | Car dealer lot | | NC | 119,424 | 10/5/1999 | |
| 227920 | 1G4AJ4749CH227920 | | | 197 | 6/21/1982 | Alan & Pam Steiden | Steiden@aol.com | KY | 70,000 | 7/23/2004 | Awaiting restoration |
| 227926 | 1G4AJ474XCH227926 | | | | | | | | | | |
| 228011 | 1G4AJ474XCH228011 | | | 195 | 6/21/1982 | | | | | | |
| 228028 | 1G4AJ4745CH228028 | | | 198 | 6/21/1982 | | | | | | |
| 228035 | 1G4AJ4742CH228035 | | | 199 | 6/21/1982 | | | | | | |
| 228042 | 1G4AJ474XCH228042 | | | 194 | 6/21/1982 | Bob Martis | | OH | | 6/10/2005 | Under Restoration |
| 228118 | 1G4AJ474XCH228118 | | | 200 | 6/21/1982 | | | | | | |
| 228162 | 1G4AJ4749CH228162 | | | 207 | 6/21/1982 | | | | | | |
| 228175 | 1G4AJ4747CH228175 | | | 206 | 6/21/1982 | | | | | | |
| 228181 | 1G4AJ4742CH228181 | | | 205 | 6/21/1982 | | | | | | |
| 228249 | 1G4AJ474XCH228249 | | | 204 | 6/21/1982 | | | | | | |
| 228361 | 1G4AJ4744CH228361 | | | 203 | 6/21/1982 | | | | | | |
| 228440 | 1G4AJ4740CH228440 | | | 202 | 6/21/1982 | | | | | | |
| 228536 | 1G4AJ4742CH228536 | | | 201 | 6/21/1982 | | | | | | |
| 228699 | 1G4AJ4748CH228699 | | | 134 | 6/22/1982 | | | | | | |
| 230049 | 1G4AJ4741CH230049 | | | 208 | 6/22/1982 | | | | | | |
www.beforeblack.net
Home Page

Links