www.beforeblack.net
Home Page

Links
Positive Identification of a 1982 Grand National
I have received many e-mails from people who have sighted, recently purchased, or are considering purchasing what they believe to be a 1982 GN. There is a lot of confusion about what a 82 GN is. If you are uncertain about a particular car, the following should help.
It is easier to prove a car is not an 82 GN than it is to prove a car is an 82 GN. The Grand National was an option package, not a model, and therefore does not have a special VIN number. Buick did not keep records of which cars were GN's. (This is why the REGISTRY is so important.)
Also, most 1982 Turbo Regals are not Grand National and most 1982 Grand Nationals are not Turbo Regals. A few, however, were both.
The only way to be 100% sure is to know the cars history and have documentation (the more the better). A window sticker will show VIN, body number and the Grand National package option. Build sheets will list the body number and Grand National option. Also, many cars history can be traced back to new through the 1982 Grand National Registry. If you do not have this documentation, follow this guide:
FIRST, IT SHOULD LOOK LIKE THIS: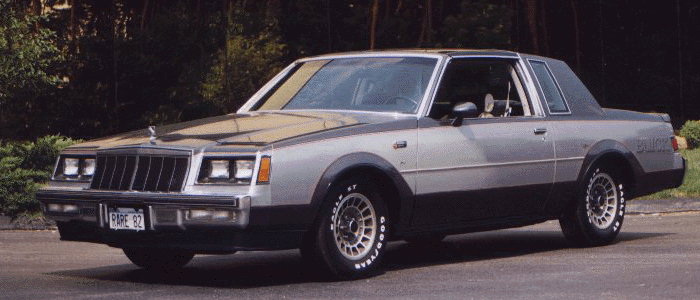 Time may have taken it's toll. A 1982 GN may look quite a bit different than when new. Repainting, restoration, aftermarket accessories, accidents, and theft recovery may all help disguise the original appearance. OR maybe someone has simulated the appearance of the "Grand National" package on other car. Since looks can be deceiving, check that the car has the following.
ALL 1982 GRAND NATIONALS MUST HAVE THE FOLLOWING - These will not change with time:
T-Tops- I have never seen an 82 GN without them.
VIN Year and Engine Codes - The car obviously must be a 1982 and therefore have an "C" for the tenth digit. Also the eighth digit must either be a "4" (4.1 L V6) or "3" (3.8 L Turbo V6). Although the engine may have been replaced, it originally had one of these two engines.
Cowl Tag Paint Codes - On the cowl tag (under the hood, near the windshield) should be the codes 84U and 84L for the paint. Maybe the car was repainted, but the original color was Charcoal Gray. There should also be an 82 (model year) and CC1 (T-Tops) on the tag.
ALL 1982 GRAND NATIONALS SHOULD HAVE THE FOLLOWING - These are very unlikely to change with time:
Slate Gray Interior - Since, it is unlikely that the complete interior has been changed, it should be mostly Slate (light) gray with a Charcoal (black) dash pad, steering column and wheel. It should also have a floor console/shifter.
Charcoal Insert Trim - If the interior is intact, the console, upper door panels, and dash will have charcoal inserts in place of the woodgrain. The instrument panel pod to the right of the speedometer will have a clock delete plate with "Grand National Buick Motor Division" and the V6 logo.
Rear Spoiler - All 82 GN's came with a three piece rear spoiler. The decklid and quarter panel extension were all drilled to accept the spoiler. The spoiler may be gone, but the holes might still be there.
MOST 1982 GRAND NATIONALS SHOULD ALSO HAVE THE FOLLOWING - These possibly have changed with time:
Air Dam - All 82 GN's came with one, but many have been lost to curbs, snow, etc.
"Buick" Decals/Silver Paint- All 82 GN's had Buick shadow lettering on the quarter panels and decklid, and special two-tone silver paint (see picture above). Easily lost due to repainting/accidents.
Aluminum Wheels - Easily changed with other GM or aftermarket rims.
Lear-Seigler Seats - Seat covers are easily ripped. May have been replaced with standard buckets or lost to theft.
Standard Options - All GN's were to be equipped with the same options including Tilt wheel, PW, PDL, cruise, rear sway bar, and a digitally tuned cassette radio.
By this point, hopefully you are confident wheather the car in question is or is not an '82 GN. If you are still uncertain, please send an e-mail to me at b4black@flash.net with your concerns. The more information the better. If you have found an '82 GN, please let me know for the REGISTRY.