www.beforeblack.net
Home Page

Links
Racing the 1978-1983 Turbo V6 Buick
A Before Black Recipe for at least the 14's!
Last Updated: 11/29/2007
After learning a little about the history of the Turbo V6, you will realize it wasn't always intended to be a high performance engine. What makes this motor great, is it can easily be modified to high HP applications. This is easily seen by the large number of 1984-'87 Turbo Regals being run with great success at Drag Strips across the country. While the later Turbo V6 has the benefits of Fuel Injection and even Intercooling, the basic motor is the same. While it may not be practical (cost effective) to equal the performance of modified 1986-'87 TR, it is a realistic goal to meet the stock '86-'87 TR's power without breaking the bank.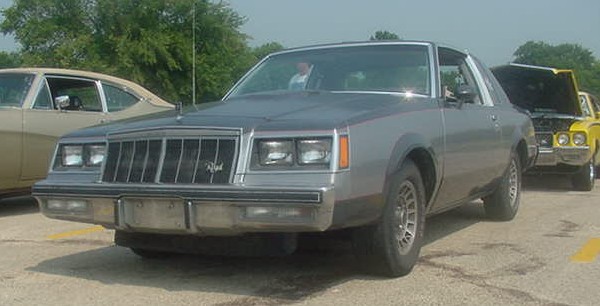 The '82 GN/SC in the staging lanes at Byron Dragway.

BEFORE BLACK PERFORMANCE RECIPE! - OK, I'm only been racing my cars for a few years, but below is what I have learned. To see my most current progress, click here:
ANY QUESTIONS? PLEASE USE THE Message Board!
I do not recommend removing all the emissions and computer controls. Removing most will have not have a positive effect on performance. A few may be modified or disabled, but make sure you know what the consequences are first. Also, I suggest sticking with the stock Quadrajet. It is specially tuned to the turbo motor and has a lot of potential for performance. Get a factory shop manual, it's well worth the money and can be done cheap on eBay.. If you have an ECM equipped car, get a scan tool like an OTC Monitor, again cheap on eBay. (Modifications I have performed are in boldface.)
BEFORE DOING ANY MODS (aka "Spring Cleaning"):
Install boost pressure gauge!!!!! (cannot stress this enough)
Use highest octane gas possible.
Install new, NGK UR5 plugs gapped at 0.035. (the recommended AC Delco plug is too hot and too wide!!)
Confirm ESC system is working.
Confirm Quadrajet's secondaries are opening properly
Replace Quadrajet's internal filter with a 3/8" external fuel filter.
Make sure downpipe isn't resting against header. (I use a turnbuckle at the converter to pull it towards the frame rail.)
Learn to power launch (build boost against foot brake until about 0 psi.)
MAKE SURE THE CAR IS RUNNING RIGHT BEFORE MAKING MODS!
MODS TO BEGIN WITH (basically what I've done and recommend). This should get you into the 15's.
If it's an ECM car, get a cheap scan tool (check ebay for OTC Monitors) or Casper's 10-LED Knock Gauge to monitor knock
Adjustable wastegate actuator for increasing boost (watch for detonation!) www.gnttype.org Adjustable Wastegate
165°F thermostat.
K&N cone filter (either replace stock air box or use 3" dryer duct)
Open up exhaust (gut cat, bigger pipes, dual exhaust, dump pipe, etc.).
Box lower control arms and add an air lift spring for better traction and no wheel hop.
Modify/Tune Quadrajet on non-ECM cars. Tune secondaries on ECM carbs.
Tune advance HEI distributor on non-ECM cars.
MORE SERIOUS MODS: (I'm just getting here) These will get you to the 14's
Consider Water/Alcohol injection to control detonation. (This can be worth a full second if done right.)
Driver's side polyurethane motor mount to reduce engine movement and false knock - HRpartsNstuff
MSD 6 BTM ignition. (This unit uses variable timing retard that changes with boost pressure)
Higher stall torque converter.
Custom 2.5" downpipe.
Change ring gear if necessary. Earlier cars may have a high ratio (numerically low) rear gears. Expensive, and it may be cheaper and easier to swap complete rear. G-bodies with Overdrive make great donors for low ratio 7.5" RWD rears. Limited slip is, of course, a big plus. I highly recommend going with an Eaton. I tried a Powertrax and it lead to wheel hop. The two used Auburn units I found needed new spring retainers and are not rebuildable.
Use 1979/80 or 1983/85 exhaust manifolds for 1981-82 RWD cars (and maybe Riviera also)
Change turbine housing on '79/81 turbos to the '82/83 0.63 A/R housing.
Electric fan (maybe from a 86/87 TR).
Have turbo "Hogged out" to except larger turbine/compressor impellers.
Port the heads (expensive, but large gains reported!)
If you need to rebuild the motor, get a 4.1 Buick V6!!!